Corporate Profile and Mission
Built on a solid foundation, with its local dynamism and its huge purchasing power, Brassardburo offers a bunch of competitive advantages that we invite you to discover!
All team members work together in the sole purpose of responding to your requests while applying a very high quality standard in the chosen ways.
Each employee is handpicked and selected from the best in the field of paper and office supply in order to offer a reliable, courteous and quality service to which you are entitled.
Brassardburo regularly sits a Quality Management Committee to be more responsive to customer needs and for continuous improvement of our service.
Our president

Éric Brassard, CPA, CMA, MBA, is president of the family business founded by Henri-Paul Brassard, Brassard Buro, since 1993. Mr. Brassard is a member of the order of Management accountants, of the Chartered Professional Accountants. He was a member of the Quality Movement from 1996 to 2004, the board of directors of the MBA association of Quebec 1999-2000. He is a member of the board of directors, the development committee and co-president of the audit committee of the communal foundation of Quebec since 2009. He serves on the Board of Directors of Novexco since 2000 and was elected President of the this board in 2011. Mr. Brassard has received in 2010 the elite Price - CMA 2010.
Shop online or on site!
Brassard Buro is proud to present its new transactional website! You can now enjoy a fully customized shopping experience online from your computer or your mobile devices. Our system recognizes your customer profile and offers you products and promotions corresponding to your shopping habits. You can even automatically renew your regular orders in just a few seconds!
Everything has been thought to simplify your life, we offer a virtual advisor service online with whom you can chat during your shopping process. You can consult your customer's account information and make effective monitoring. The new website brassardburo.com is an innovation in the field of online customer service, the most advanced in its field. This is another proof that customer service is top priority with us!
History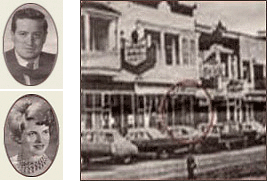 The success story of Brassard Buro debuted more than 40 years ago. At Dolbeau, small town located northwest of Lac Saint-Jean, Mr. Henri-Paul and his wife Claudette Trottier opened their first store in 1962: La Librairie Centrale, located on the Wallberg boulevard.
Mr. Brassard juggled between a career as a teacher, school principal and the director of the library. Mrs. Brassard, as for her, developed a loyal customer relationships while raising their five children.
The company's success is solidified in 1982 with the acquisition of two companies from Chicoutimi, LA LIBRAIRIE RÉGIONALE and LA LIBRAIRIE DU ROYAUME. Integration of SOPA banner which will become in 2001 BURO PLUS. A year later, Mr. Brassard adds to its expanding LA PROCURE DE JONQUIÈRE.
It's the turn of the greater Quebec City area to be conquered by Henri-Paul Brassard. He acquired in 1989 La Procure de Monsieur Matte better known under the name of PROCURE DE QUÉBEC. Then a few years later, Mr. Brassard settled in the Portneuf region by opening two new shops under the name of : Papeterie Donnacona and Procure de Saint-Raymond.
Brassard decided to add a string to their bow by specializing in the furniture sector. To do this, he acquired in 1999 RBL inc., a company located in Chicoutimi.
Throughout these years, Brassard's team offers to their clients, services in the office supplies sector through its catalog, school furnitures and materials and the diversity of its office furniture.
The company's expansion continued in 2002 with the acquisition of paper and office furniture division of BUREAUTIQUE GUY DROUIN INC., located in Saint-Georges.
The company maintains its family destiny and the future is assured. Éric Brassard succeed his father as president of the new entity : BrassardBuro. Under the supervision, and working closely with his father, Éric continue the development of the company.
In 2006, Brassardburo merges its acquisitions from Saguenay. So RBL inc., Librairie Régionale et Papeterie A & D become a single entity that now appears under the name of a single organization : Brassardburo. Located in Saguenay, This subsidiary offers local customers one of the most beautiful and modern office furniture showroom. All employees of this subsidiary are pleased and proud to offer the same service as for the supply and for the furniture.
In Quebec, Brassardburo offers customers a choice worthy of their customer needs as for the provision of school materials, paper and for office furnitures. The team stands out for its outstanding customer service and its desire to be on the lookout of all new technologies to be attentive to the needs of customers, employees and providers in order to successfully build an extraordinary network.